The Warriors discuss who they would put on their comic book Mount Rushmore.
Books Reviewed:
Batman: Return of Bruce Wayne #6 (DC Comics)
Written by Grant Morrison; Art by Lee Garbett, Pere Perez, Alejandro Sicat & Walden Wong
King! (Blacklist Studios)
Written by Thomas Hall; Art by Daniel Bradford
Chew #15 (Image Comics)
Written by John Layman; Art by Rob Guillory
Courtney Crumrin and the Night Things (Oni Press)
Written and drawn by Ted Naifeh
Parker: The Outfit (IDW Publishing)
Written and drawn by Darwyn Cooke
Frank Frazetta's Creatures (Image Comics)
Written by Rick Remender; Art by Peter Bergting
Giant Size Fantastic Four #2 (Marvel Comics)
Written by Gerry Conway; Art by Sal Buscema
Walking Dead Episode #3
Trivia Contest: Agents of Atlas #1 Signed by Jeff Parker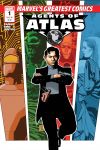 Download the episode now:
Discuss this episode on our forum at lets.fightforcomics.com!
**Wednesday Warriors is a podcast for everyone counting down the days every week until Wednesday when the new comics hit the stands. With discussions about what's going on in the industry, reviews of current and older comics, and a wide variety of opinions from well-read fans. More information can be found @ fightforcomics.com
Podcast: Play in new window | Download
Filed under: Wednesday Warriors
Tags: AMC's Walking Dead, Batman: Return of Bruce Wayne, Chew, Courtney Crumrin and the Night Things, Frank Frazetta's Creatures, Giant Size Fantastic Four #2, King!, Parker: The Outfit